Annotations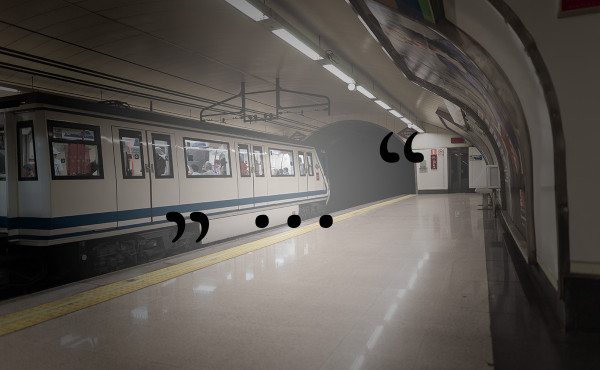 Life means changes and the capability to adapt oneself. Hence rules connected to life sometimes have to be validated and broken. Nothing else I had to do with my photo project. I had to loosen the strings I tied up once, meaning that actually all lines of all European capital subways shall be covered photographically. Not in case of Madrid. I stopped working after having ridden line 8 out of 13 and if I am dead honest then I realised already after having driven the metro line that I will not photograph the whole network of the Metro de Madrid as it is pretty dull. To boot a quarter of the circular line as well as a part of the suburb metro line 12 were closed and under construction, hence either way my project couldn't have put into reality the way I wanted.
Superlatives are not often standing for quality. Operating the eighth longest underground network in the world doesn't automatically mean that every station is an optical gem. In fact almost all stops of all lines literally look the same way; same colour, same materials, same construction type, hence the lines published here stand for the look and feel of the whole network and the non-published lines. The preview image of each line is already the prettiest looking coming across…
Providing quality transportation services with a large network is something really great, but did really every station had to be constructed in a standardised way??? Constructionally, and much more financially, seen that keeps problems as well as costs down, but leaves only a very marginal creativity potential behind. The station signs I captured in a hit & run manner, meaning that the trains stopped for so long that I had the chance to run out like a savage, photograph the station sign and run back into the same train again to continue my travel. The faces of other fellow metro travellers expressed a big lack of understanding what I am doing… :-) Well, Madrid, in terms of subways I can only say "What a pity", but your gems and highlights are daylight things.
The whole photo series was created solely using the prime lens Sigma 24mm f/1.4 DG HSM Art.
http://www.metromadrid.es
http://en.wikipedia.org/wiki/Madrid_Metro